I have finished my dress. Yay for me!
from this, to this!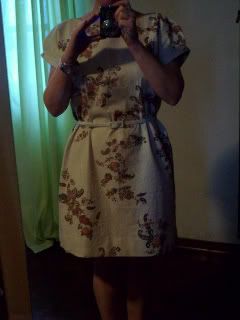 The dress is a loose fitting, cotton paisley pattern (I just love saying the word "paisley"). I added a belt here to see how it would look, because otherwise it just hangs like a sack, and that makes me look like a marionette on a stick, quite frankly. The sleeves, which have a small pleat on top, are designed to slope off the shoulders. I shortened the hem to fall above my knees instead of below, because I'm petite in stature.
Here I added a grey sweater (and candy apple red peep toe heels...but I haven't shaved my legs in a few days so you won't be seeing them...whoops). Forgive the grainy photos, it is raining out, and I'm not a miracle worker with my point and shoot.


I am especially proud of this dress, because it is the first sewing project that I have successfully completed from start to finish, and it's also the first dress that I have ever sewn. I only made one error, thankfully you can't see it without especially looking for it (and I'm not telling where it is)!